SplashPhoto for Palm OS
4.4
SplashPhoto is the ultimate mobile image viewer for your Palm OS handheld
Last update
20 Mar. 2006
Licence
Free to try |

$29.95
OS Support
Mobile
Downloads
Total: 414 | Last week: 0
Ranking
#38 in Multimedia
Publisher
Splashdata
SplashPhoto for Palm OS Publisher's Description

SplashPhoto turns your handheld into a mobile digital picture frame! Simply load your favorite images with the included desktop software and you're ready to view images while on the go. Images can be viewed by thumbnail, individually or in a slide show.
Simple, fast, high quality image viewer
Desktop image catalog lets you edit, organize and sync images with your handheld
Install JPEG images to internal or external memory, saving precious memory
Organize images using an unlimited number of categories
Send images to other mobile devices via infrared, Bluetooth, or SMS
Supports sending/receiving JPG attachments via email with SnapperMail, Versamail
and others
Pan and Zoom on the handheld
View images in a Slideshow with transitions and background music*
Take pictures with your built-in camera on the Treo, Clie, or Zire 72**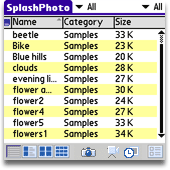 List View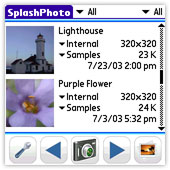 Detail View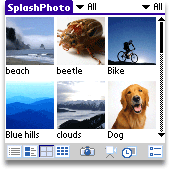 Thumbnail View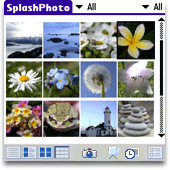 Gallery View
The Image Browser displays images in List, Detail, Thumbnail, and Gallery Views, and you can filter this view by Category or Location. Click the Slide Show button to view the current category of images at full screen. SplashPhoto supports Low Res (160x160), High Res (320x320) and High Res + (320x480) devices - including landscape mode on the Tungsten T3 and Sony UX-50.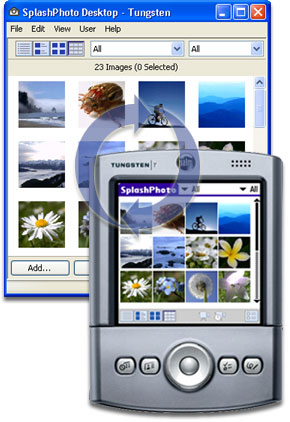 The included desktop software lets you easily crop, edit and install images that are optimized for the handheld display.
System Requirements
Supports all handheld models running Palm OS 4.0 or later that are capable of displaying 16-bit images
Tungsten T3 users need Palm's DIA Compatibility PRCs installed
Supports standard (160x160), Hi-Res (320x320) and Hi-Res+ (320x480) displays
230k of free memory for the application and 30k per image
Windows 98, ME, NT4, 2000 or XP
Mac OS X v10.2 or later
* To play background audio while viewing a slideshow you must have one of the following: Pocket Tunes 3.0 or later installed, AeroPlayer 5.0 or later installed, or a Zire 72. If your system meets one or more of these requirements, you can choose to play audio in the background while viewing a slideshow in the Slideshow Preferences dialog.
** Clie users must download a camera support file here: SonyCapLib2.prc
Note: Clie NR-70 camera is not supported.
Save $50 when purchasing SplashID, SplashMoney, SplashPhoto and SplashShopper together as part of the SplashWallet Suite!
Look for Similar Items by Category
Feedback